How do I add the Marathi Language to a Smartphone Keyboard?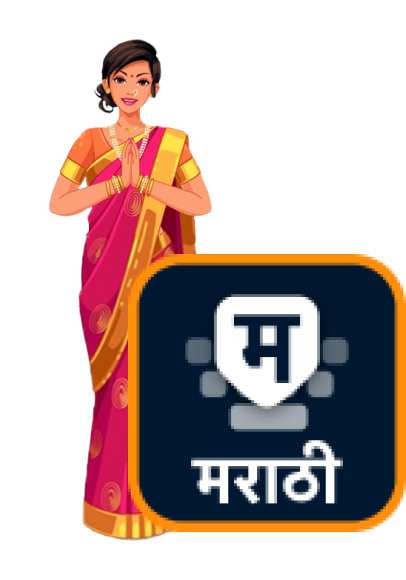 Follow these instructions to activate Marathi typing through English on your mobile device if you wish to text in that language. The Google-provided app is available for free. Using the English to Marathi translation method, you can use this application to write in Marathi or any Indian language.
Steps to Install and Download Marathi Keyboard
This is a fairly straightforward approach for typing on an Android smartphone in Marathi (and ten additional Indian languages). Transcription or transliteration is used to describe typing from English to Marathi. To activate Marathi typing on your mobile device, follow these instructions:
Step 1: Get the Bharat Keyboard app from the Play Store. You'll have to download this APK to your smartphone. Every Android version can use the Bharat Marathi language keyboard; there might be minor settings differences, yet this general procedure is identical to what is described below.
Step 2: Click the Open icon to launch the program after installation.
Step 3: Select the "ENABLE IN SETTINGS" option that appears when you initially open the program; tap on the 'Open' button to begin the process.
Step 4: Now you've to change the Keyboard's default setting, and for that
· Go to the settings.
· Click System.
· Click on "Languages & Input."
· Choose "On-screen keyboard."
· Click the "Manage on-screen Keyboards" button.
Based on the variant of Android OS you're using, these procedures may vary slightly for various devices.
Step 5: Next Select "ON" beside the toggle that says "Downloaded Marathi Keyboard." You will get a prompt notification that the program may record anything you enter, including sensitive information like credit card and password details. Before proceeding, ensure you can trust your Keyboard.
Step 6: Select "OK." Any software that makes use of a digital keyboard can open the Keyboard.
Step 7: Click on the keyboard logo on the bottom side of the display. Now, you've to 'Marathi Keyboard with Marathi Stickers' and then begin typing. After this new Keyboard is loaded, you can switch among keyboards while typing as needed. Even if the procedure varies depending on the device, it is still manageable.
Step 8: Open this Keyboard in any application you wish to type. Tap the keyboard symbol on the bottom-right side after the Keyboard is displayed.
Step 9: Select the preferred option to switch the Keyboard.
Step 10: Congrats on step ten! Installing this Marathi Keyboard on your Android smartphone has been done successfully. Open the app you wish to use to text in Marathi. When you see the icon "ळ " with the small arrow, you may long-press it to choose between two Marathi keyboards, such as the Direct Marathi Language keyboard or the English to Marathi keyboard. Moreover, you'll see suggested words and a variety of other features.
Taking these guidelines will make it easy to focus on and type on the Keyboard in full, negating the requirement for you to struggle to learn English or seek assistance. Since Marathi is a widely used language, you have this choice. A choice created for your convenience by a Marathi buddy of yours. Your feelings and words are fully understood and returned.
How does the Marathi keyboard function?
Start to write in Marathi by clicking anywhere inside the typing window with a mouse or Keyboard. The shift key is an exception while typing with a mouse because after you hit it, the Keyboard will freeze itself till you input the subsequent character. This virtual Marathi keyboard was deliberately created so that you can quickly access the most often used features. The horizontal rule is used to create the typing page's design.
Featuring Bobblehead stickers, express what's on your mind.
·         Use the Marathi Keyboard App from Bharat Keyboard to create custom stickers.
· Insert your favorite photo or take a selfie with the keyboard application.
· As the software develops your cartoon bobblehead, wait a short while.
· You are now prepared to edit thousands of sticker layouts to produce customized stickers.
Sticker options are also accessible for important events, Marathi holidays, and emotions. You may further personalize the stickers by adding personalized text to your sticker in any language (English or Marathi).
As your conversations deserve better and more extensive, there is BigMoji.
You can get colorful and amusing BigMojis using the Marathi keyboard App from Bharat Keyboard. By just holding down any emoticon on the emoticon bar for a long time, you may send BigMoji to your loved ones. They are large, audacious, and stunning.
These are fantastic templates for adorable and unique display moments. Simple default themes have become a thing of the past. Moreover, this enjoyable function will give your English to Marathi typing keyboard a customized touch. You may choose one of the lovely templates in the Marathi Keyboard/ Kibot theme area or make any image in your library the background of your Keyboard.
Marathi Voice Typing Done Quickly
It's never been so simple to communicate in Marathi. You can have a hassle-free Marathi keyboard application for talking for nothing. Everyone may easily communicate in Marathi thanks to Bharat Keyboard's Marathi Keyboard Online audio-to-text capability.
The Marathi keyboard can handle all the jobs for you when you're too busy running to text or if you wish to multitask. Tell the Keyboard what's on your brain, and it'll type.
Typing Marathi on Whatsapp Account
There are several methods you can use if you want to write in Marathi on Whatsapp:
1. Launch the WhatsApp app on your mobile phone, then start a conversation.
2. Click the textbox to activate your Keyboard and start writing the message.
3. Select Bharat Keyboard. To pick a language on an Android, click and hold the space bar and pick Marathi; on an iPhone, click and hold the globe symbol on the bottom left edge of the Keyboard.
4.      As a result, you'll be able to write in Marathi on WhatsApp once you start seeing the Marathi alphabet.
Therefore, here are some methods you can try if you're also trying to text in Marathi using an English keypad:
Click the "a->" button on English Keyboard to turn the translating mode off and on. Next, type a text in Marathi. Type in English characters in Marathi sentences, and the application will translate the text. Switch it off and resume English-language typing.