How do I do Marathi typing on an English keyboard?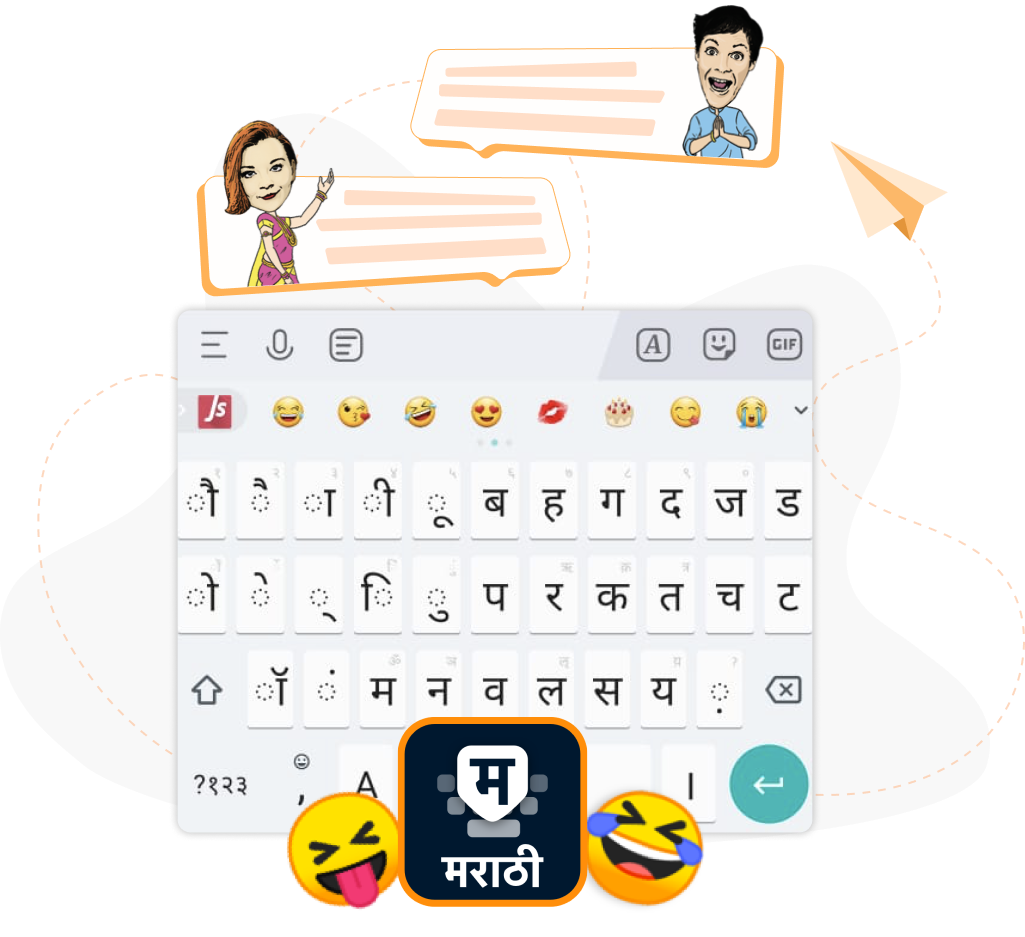 There are several things to take into account while typing in any language. Before choosing an ideal keyboard for your vocabulary, you must consider the following questions. How quickly can you type? How precisely do you have to be? What level of typing confidentiality do you desire?
Bharat Keyboards offers the Marathi Keyboard software in response to the demand for English to Marathi writing and an improved version of the primary keyboard. When you need to enter Marathi texts quickly and comfortably, this Marathi typing keyboard app is helpful.
Factors to regard for Marathi language keyboard
A few alternatives are available if you want to text in Marathi. Understanding your unique demands and writing technique is key in determining which alternative is ideal for you. Here are some of the factors to take into account for the Marathi language:
· All new emojis are stickers. Though emojis have replaced words in the virtual environment as the global language, stickers have begun taking over as the preferred method of expression.
·         If WhatsApp serves as your primary means of interaction, you may not fully utilize voice typing to its maximum potential. On your devices, voice typing will revolutionize how you connect with family and friends. You'll begin to contemplate how you managed with the keyboard in the past. The solution is seamless voice typing; therefore, welcome the latest Marathi keyboard app.
· Everyone appears to possess a position on the topic of communication. There are friends of yours who adore GIFs and others who favour stickers. Many of you can share a common goal: chat apps have become more intimate than ever.
It can't be simple to keep up with the ever-changing globe, and you skip out on valuable discussions and events that are taking place right next to your sight. People should be tech-savvy to interact with others and engage in digital initiatives. You must learn new techniques and utilize new tools to achieve maximum performance. Developing a new ability like keyboarding in Marathi is similar and requires much perseverance, commitment, and work.
But over time, you'll become accustomed to and perhaps even begin to adore typing in Marathi on your mobile keyboard.
How to do Marathi typing on English Keyboard?
Follow these easy instructions to utilize the Bharat Marathi keyboard on your Android device:
Step 1: By pressing the logo on your home screen, dragging down the notifications panel, and clicking the Gear icon, you may access the Settings app on your Android handset.
Step 2: Now, navigate to 'Language & Input within the Settings Screen.' Click the search tab to find if it's in a different place on different cell phones.
Step 3: Visit the 'Language & Input' section and search for the 'Keyboard & Input Methods' section if you're running an old Android version.
Step 4: Then tap the keyboard that is now active, which over most Versions of android, is labelled Current Keyboard. On more current Android variants, the primary keyboard is your UI-customized Keyboard like Samsung Keyboard for Samsung, SwiftKey, or GBoard.
Step 5: Once you've selected 'Languages,' a list of available translations should appear, allowing you to add and browse for the dialect of your choice.
Step 6: Click on the box beside the Marathi head; you might also need to deactivate the Use standard language edition switch. This shall activate and install the Marathi Typing Keyboard.
Features of Marathi Keyboard
Due to its capabilities, the Marathi Keypad by Bharat keyboard is currently the most popular thing on the "popular" list of applications.
· Personalization Options: The Marathi Keyboard Application provides its clients with many customization options. They can use it to make animated selfies and stickers of themselves. Users may change the keyboard's appearance by utilizing theme collection and other pre-set fonts. The AI swiftly responds to customer requirements and does so.
· Multiple features: Compared to other keyboard applications, this Marathi Keyboard Application currently has the most functionality. Because of characteristics like Glide Typing, Word Correction systems, audio-to-text Marathi language Typing, BigMoji, and people favor this keyboard program above others.
·         No Charge: Downloading the Marathi typing Keyboard app is free. It offers a seamless and commendable customer experience, coupled with fun and stimulating chats, without requiring in-app payments or upgrades.
· Fantastic Marathi Support and voice-over-text: The Marathi Keyboard Application includes users with a voice-to-text functionality that transforms their spoken words into typed words. This makes typing simple, helpful when multitasking, and improves user productivity when chatting. This program also features an English-to-Marathi language keyboard that effortlessly converts text from English sentences to Marathi.
· Gestures: This keyboard program is intelligent enough to understand new terms that weren't in the glossary that came with it so that it can give these to the users the following time. You may access the numerical row plus the emoticon row with only one swipe. Similar to the Google GBoard, it also contains the spacebar function. With this, users may glide their cursor over the spacebar as needed.
·         Reliable and secure: This keyboard app offers a fantastic sense of security and dependability. The Marathi Keyboard does not gather sensitive data or information about security and protection measures. Android displays a typical warning upon download, requesting your consent when setting up.
· Emojis, GIFs, and stickers: A group conversation must have memes, emoticons, stickers, GIFs, and jokes. More than 500,000 GIFs, memes, and Stickers from thousands of TV series and movies are available on the Marathi language Keyboard. In addition, this keyboard software has an AI predictor that offers stickers, emoticons, and GIFs according to the words entered and the user's choices.
Why Use a Professional Marathi Keyboard?
· Vast selections of themes with colour.
· Autocorrect and intelligent next-word suggestions let you type quickly. So, use Marathi keyboard software.
· The wallpaper of your keyboard to Themes.
· A vast array of adorable emojis.
· Two language compatibility.
This keyboard is an ideal tool to increase your comfort and efficiency when typing Marathi content. Additionally, it provides tools like a GIF and sticker library to make messaging with business associates or friends distinctive.