Step by Step Guide to download Marathi Keyboard On Your Android Phone?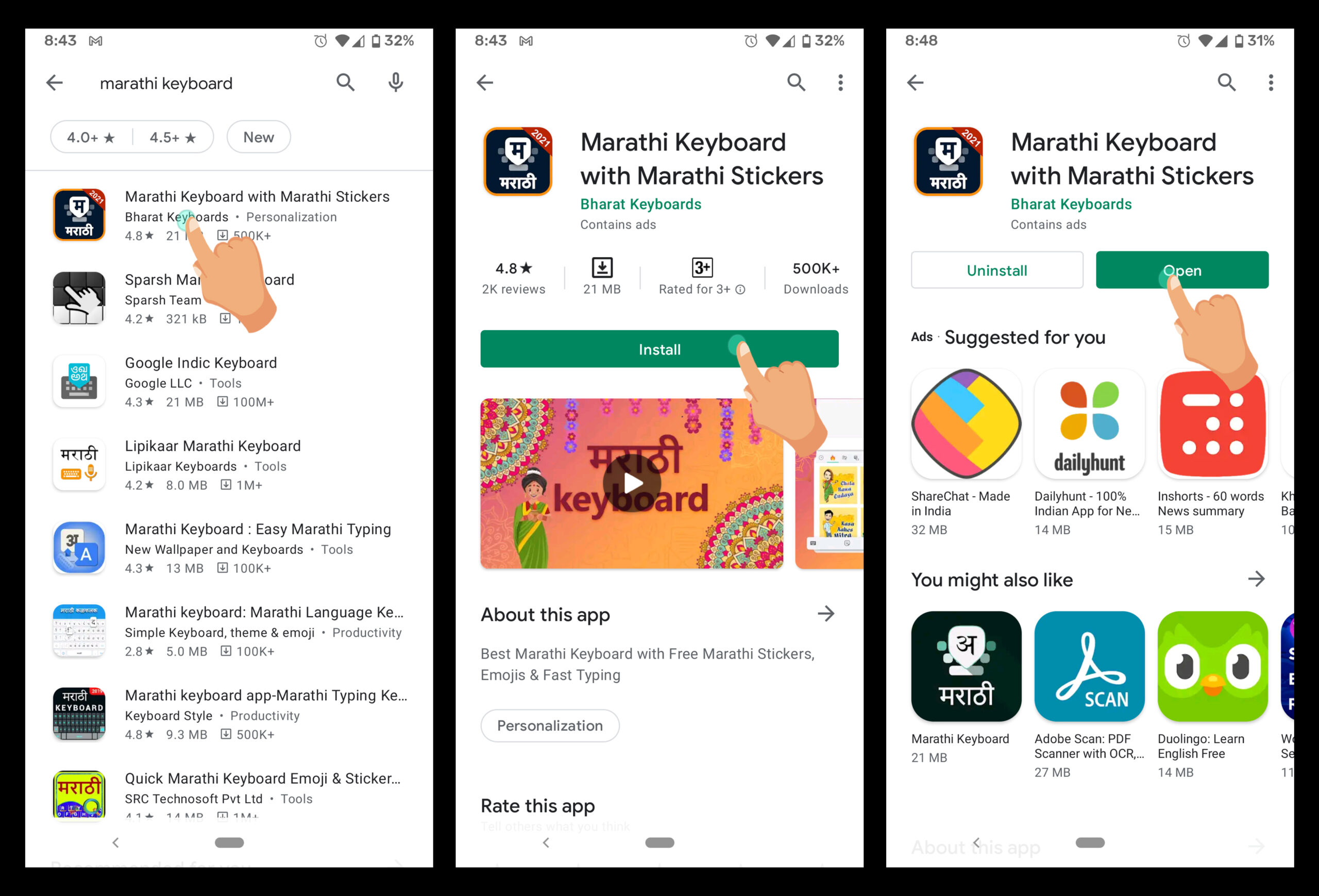 Why should you download Marathi Keyboard on your android phone ? 🤔
It can't be denied that a lot of time is spent on smartphones by users of all age groups. In almost everything, the smartphone's digital keyboard is used quite frequently, and it won't be uncommon that you get tired of using the same old keyboard that came pre-installed in your smartphone.
Customizing mobile phones gives users a different level of satisfaction, doesn't it? Setting them up according to your own preferences can make the experience a little more pleasant. This also includes digital keyboards. Can't figure out how to install one? There are hundreds of keyboard applications on the Google Play Store that significantly enhance a user's typing experience.
After choosing one of them, follow this crisp guide to install and use third-party keyboards on your smartphone. We will be installing the popular new entrant Marathi Keyboard with Marathi Stickers as an example (the process of switching to any other keyboard is the same).
This application is one of the best made-in-India apps that respect your privacy. All the data generated while using this app stays protected and not shared with anyone. So it's time to stay stress-free and use the Marathi keyboard.
Step 1: Install the keyboard
Open Google Play Store.
Search for Marathi Keyboard with Marathi Stickers by typing it in the search bar.
View the application, and click install.
Once you have downloaded a keyboard, follow the next step.
Step 2: Setting up the Keyboard as the default keyboard
Open your smartphone's settings.
Tap on System.
Choose 'Languages & Input'.
In the 'Languages&Input' section, select' On-screen keyboard'.
Tap on 'Manage on-screen Keyboards'.
Note: These steps might slightly vary for different devices, depending on your Android OS version.
Switch the toggle next to the downloaded Marathi Keyboard 'ON'.
Note: A popup will appear, informing you that the app has the potential to collect all the information you type, including personal data like passwords and credit card numbers. Make sure you trust the keyboard before continuing.
Click 'OK'.
Open the Keyboard with any app that uses a digital keyboard.
Tap on the keyboard icon present on the bottom-right corner of the screen.
Select the 'Marathi Keyboard with Marathi Stickers'.
Start Typing😊
That's all it takes to get cracking.
Switching Keyboards
With the new keyboard installed, you could switch between keyboards as you type as and when required. The process might be different for each device, but it's still easy enough to do.
Open any app you want to use the keyboard in.
Once the keyboard is visible, click on the keyboard icon in the bottom-right corner.
Change the keyboard by choosing the preferred choice.