Is Marathi Typing Keyboard The Most Trending 🌟Thing Now?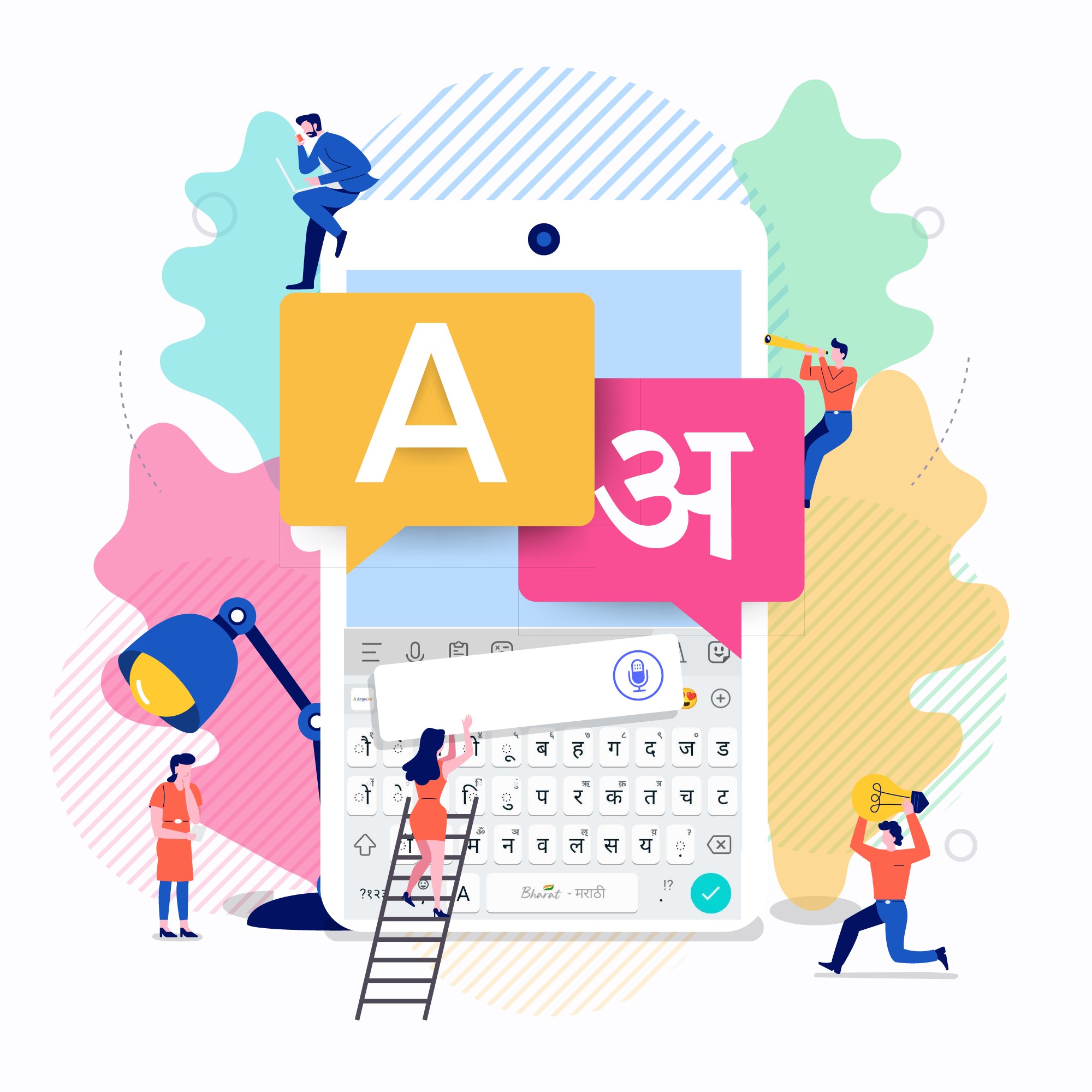 Users generally adopt third-party keyboards in search of a better User Interface and more functionality. The user interface of a third-party keyboard might be more appealing than the standard keyboard. It might have more features as well. When it comes to third-party keyboards, there is one that deserves mentioning. The Marathi keyboard with English by Bharat keyboard is an example of why users prefer third-party keyboard apps over pre-installed keyboard apps.
Marathi Keyboard (मराठी कीबोर्ड) by Bharat keyboard has made it to the 'trending' list of apps, thanks to its features which makes this keyboard the most trending thing now!:
Feature-rich Keyboard: The Marathi Keyboard App so far has the maximum features when it comes to third-party keyboard apps. Users prefer this keyboard app over other applications because of its features like BigMoji, Voice to Text Marathi typing, Word Correction Algorithms and Glide Typing.
Stickers, Emojis and GIFs: Memes, emoticons, stickers, GIFs and Jokes are a staple for any group chat. The Marathi Keyboard provides over 500,000 Stickers, Memes and GIFs from hundreds of movies and shows. This keyboard app also comes with an AI predictor that suggests stickers, emojis and GIFs based on the typed text and the user preferences.
Personal Features: The Marathi Keyboard App offers many features to its users to personalize the app. It allows them to create stickers of themselves and animated selfies. Users can edit the appearance of the keyboard using the theme library and various preloaded fonts. The AI quickly adjusts to the user style and adapts accordingly.
Effortless Voice-over-Text and Marathi support: The Marathi Keyboard App provides users with a voice-to-text feature that converts their speech to typed text. This effectively makes typing effortless. It is useful while multitasking, and it further increases user efficiency while communicating. This app also has an English-to-Marathi keyboard, which uses English syllables to convert text to Marathi seamlessly.
Secure and Reliable: This keyboard application provides a good sense of security. No personal information and data concerning protection and security areas collected by the Marathi Keyboard. On downloading, Android shows a standard warning, clearly asking for your permission while setting up.
Free Usage: The Marathi Keyboard App is free to download. It comes with no in-app purchases or upgrades to provide a smooth and appreciable user experience, along with enjoyable and engaging conversations.
Gestures: This keyboard app is smart enough to learn new words that were not in the preloaded dictionary to provide them to the user next time. It has gestures to switch to the number row and the emoji row with a single swipe. It also has the spacebar feature, like the GBoard by Google. With that, users can slide across the spacebar to move the cursor accordingly.
With these capabilities and features, the Marathi Keyboard for typing by Bharat keyboard is a highly preferred Marathi Typing application. It is quickly getting recognized as one of the best keyboard apps throughout the country. It is a common choice for Marathi Users and for beginners who need to communicate in Marathi. It is most certainly trending amongst the top keyboard apps on Google Play Store, so download now!