Shardiya Navratri 2021: Free Navratri Marathi Stickers, GIFs, And Messages In Marathi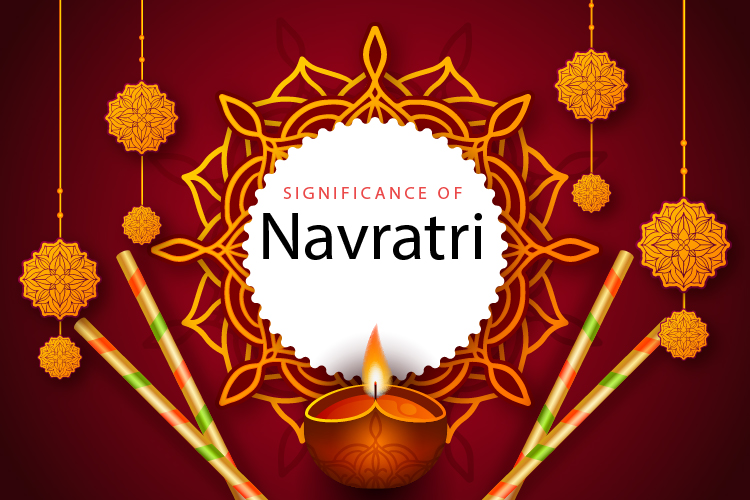 Navratri is a Hindu festival that celebrates all nine forms of Devi Maa. Each day is dedicated to a specific "roop" of the goddess or Devi. There are nine different colors specified to be worn on each day depending on which goddess's day is today.
Navratri is a significantly major festival of Hinduism. In fact, it has many festivals like Navratri, Dusshera, and Ghatasthapana.
These different festivals are just the rituals that are followed in Navratri. For example, the start of this festival is through Ghatasthapana or Klash Sthapana and ends on the 9th day of the festival, followed by Dussera.
Dussera marks the end of Navratri and is celebrated by burning the "putla" that is, a dummy of the demon named Ravan who was killed on this day of the year by Lord Ram. This is why we celebrate by burning the dummy of Ravan reminding everyone of the victory of good over bad, right over wrong, and light over darkness. It also reminds us of the mistakes Ravan did and the adverse effects your ego can bring upon you. It also signifies the importance of Lord Ram's sacrifices, principles, and morals. So that we remember to bring light into the world and always follow the right path of life aka Dharma.
Say it with stickers
After the pandemic hit, we are all stuck in our homes with minimal movements. Even after the "unlock" happening in few areas, the level of freedom to go out is much lesser than it used to be.
In fact, even without the pandemic and lockdown, we are not able to make it to meet every single loved one.
But are the festivals are going to be lonely and empty with no wishes? Heck no!
Especially when we have these unique Marathi stickers to fulfill the gaps in our hearts!
Why stickers for wishing?
Firstly because, we have a large variety of stickers waiting in the stock that has specific stickers for Ghatasthapana, Navratri, Dussera, Dandia, and much much more!
Secondly, we all receive so many messages saying "Happy Navratri" which are easily forgetful. So, what is the use of wishing someone if it seems like a formality?
Using these stickers would make the person on the receiving end smile and people don't forget those who made them smile!
Moreover, these stickers are in Marathi, which gives a sense of personal touch as well as a sense of familiarity and warmth. The native language has magic in it that is seen by none but felt by everyone! So go ahead and send unique, innovative, and fun stickers in Marathi now!
Wishing everyone Navratri!
It is a hectic job to type wishes to so many people. It is also time-consuming and hence we may miss someone accidentally too. To avoid this, use a single click that does your job. Just send a sticker and wait for their amazing response!
People love receiving different kinds of wishes because it makes them feel special.
It is very important to remember that different places need different moods in terms of communication. For example, for formal communication, it is better to have non-flashy stickers and for family groups something colorful and eye-catchy. So go ahead and explore the stickers and choose your own mood!
Navratri and Unity
Unity played a major role in winning the battle of Ramayan. The trust everyone had in each other, everyone doing their part, willing to sacrifice oneself for others, and to treat everyone with respect, even if they happen to be against you in the battle.
Hence let's remember these and get a new start to the old relationships that faded away with time or where things didn't end well but we both miss each other by sending a Happy Navratri Sticker! Wishing a festival to someone usually makes things much better. The person receiving it get to know that you still think about them and they still matter to you meanwhile not creating any awkwardness or showing any randomness in the approach you did after a while.
People tend to forgive and have a fresh start more during the festivals as during the festivals one is not supposed to have bad feels or toxic thoughts. So go ahead and try it! You will never know how much the other person misses you until one of you make a move. So, be the better person maybe and see what happens!
Stickers that are my personal favorite
Jai Mata Di
This sticker is very colorful yet sober and simple. Suitable for formal groups as well as family groups. This sticker has a sense of devotion and calmness that is magnificent. It's my first choice to send elders or to send in family groups especially when responding to pictures of Mata or Goddess.
Aaj Fast Hai
This sticker has a duality in itself which is what I find most beautiful. It can be used as a reminder or an answer to someone inviting you over their place to offer food or for someone who may be very busy in their work-life and tends to forget which days we need to fast.
Alternatively, it can be used as a joke in order to reject someone's food or to give someone a savage reply! This sticker is useful in informal communication and feels like home.
Happy Navratri
All stickers saying happy Navratri are different from each other in beautiful ways.
Starting with the devotional one that shows the "bhakti" for Mata Durga and gives an enormous amount of positive vibes. This sticker reminds us of Mata ki Chaukis which adds a sense of nostalgia.
Then comes the Happy Navratri sticker that has dandiyas! Oh my god, do I need to tell you how much we all loved and still love dandiyas and garbas? Navratri is incomplete without them! Besides it's so much fun to gather around so many strangers of common beliefs unite and celebrate this glorious festival wholeheartedly. Some people play Dandiya, some do Garba dance, some just dance happily and some love to watch these! No matter which category you belong to or if you belong to all of them at different times, you will get a nostalgic feel seeing this sticker and so will the person receiving it!
Will You Be My Dandiya Partner?
Such a cute sticker! Can be used to ignite that spark in your relationship and bring back the old school romance of "asking out" in your life! If you are a young person in love with your partner then this sticker will sound super cute to your partner! And if you like someone then this is the perfect way to ask them out as you can dance together while having absolutely no fear of being judged by anyone and even the person you have feelings for will feel more comfortable around a huge happy crowd. What date could be better than this? And just in case the person, unfortunately, does not reciprocate your feeling, just say "I only asked this for Dandiya" (Pro tip :P)
All these stickers have something unique in them, but these were my favorites! Because I love animated stickers way too much maybe. Whatever the reason, go ahead and find out which stickers you liked the most.