What is the most Maharashtrian thing ever?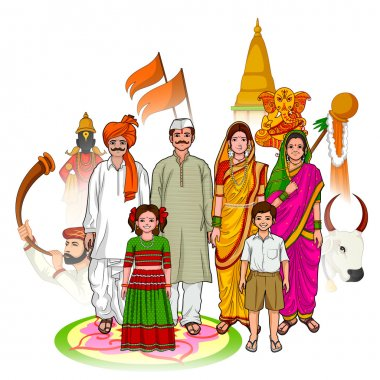 The land of culture, traditions, and humility embedded in the blood. Festivities, diversity, and acceptance are the values imparted during childhood.
The land of the Chhatrapati and freedom fighters. The land of the father of the Indian constitution and former President of the nation, Maharashtra is the land of heritage, history, and humanity.
Keeping our feet on the ground and values our backbone, Maharashtra is the home of Bollywood and Indian business giants. We love our food, our movies, and our beloved mother tongue.
Marathi is truly a feeling and actually very simple to learn. Anyone living in Maharashtra for over two years will start understanding the language.
The life of Maharashtrians revolves around their language. Everything seems incomplete without a Marathi touch to it.
Hence to bring that feeling into our everyday lives, we try to converse using Marathi typing in the most fun way possible. The Marathi keyboard app is possibly the best to truly experience the essence of Maharashtra. It compiles every aspect that is needed to feel connected. If you are looking to get to know more about Maharashtra, the people, and the most Maharashtrian things ever, "Chala suru karuya" (Let us begin).
Jai Bhavani, Jai Shivaji (Hail goddess Bhavani, Hail Shivaji Maharaj)
This warcry is what comes on the tongue of every Maharashtrian when they feel energetic.
After completing a trek to the famous forts of Western Maharashtra, it is a must to hail glory to the everlasting legacy of Shivaji Maharaj.
You say the first hail, and no matter where you are in Maharashtra, people will continue and shout their lungs out. For the feel, people have made custom stickers of this and the great Maratha King using the Marathi Keyboard Online. 
The stickers the app has, remind people of his legacy and graces their conversation with his aura.
Vishay Sampla! (Topic's closed)
The famous video of a man talking to a toll-booth worker about a famous eatery, at the end of which they slap their hands and say 'Vishay Sampla', stormed the internet and for good reason.
That is what Maharashtrians say when they agree to something. It literally means "What's more to discuss in this. Topic's closed".
The manner of saying this is very funny, and looking at people saying this is even more fun. This is why I make GIFs of slang and gestures using the Marathi keyboard app.
I can assure you that when these GIFs make an entry into my Whatsapp groups, there's a storm. Does it sound interesting? Yes? Vishay Sampla!
Kombdi Palali and Jhingaat in Parties
The two most popular Marathi songs are a must-play at parties. Any occasion is incomplete without shaking a leg to these songs.
If you ever hear any of these two songs playing, know that there's a Marathi party going on. If your friends come asking for the lyrics, you won't have to think about how you will send it to them.
Bharat keyboard's Marathi keyboard app helps in English to Marathi typing, making it convenient and fast.
After sending the lyrics, just start singing it in your mind or your device, and dance your heart out. I'm telling you, that..Oh I Will be back in a moment, my brother is playing Jhingaat.
Ghee filled Puran Poli
Puran Poli is the most popular Marathi delicacy. A part of the state's rich heritage, Puran Poli is a special dish made during special and auspicious days.
But you cannot eat a Puran Poli as it is. The most Maharashtrian thing in this is that once you sit to eat, elders will pour half a cup of Ghee on your Poli (Roti) and that is how you actually bring the sweet essence.
The process of making Puran Poli is quite difficult and lengthy. You need to follow steps exactly the way they are supposed to be. Typing The recipe and procedure would take time which is why features like the speech to text from the Marathi keyboard app are a blessing.
Just speak the steps, and the keyboard will convert it into text. Let your taste buds be overwhelmed with the real taste of Maharashtra.
Tilgul ghya, god god bola (Have tilgul, and speak sweet things)
On the auspicious day of Gudi Padwa, a special sweet called Tilgul (laddu of jaggery and sesame) is prepared at Marathi homes.
Everyone gives this to each other in the family, to neighbors, relatives, and friends to mark the beginning of a new year. At the moment of sharing, this line is said. It means "May your words be as sweet as the Tilgul".
It is not just a tradition, but a feeling that is passed on from generation to generation. It is our to maintain to continue to celebrate our culture.
Ganpati Bappa Morya
Bring communities together, the festival of Ganesh Chaturthi is celebrated with utmost reverence and devotion.
Maharashtra is also home to the Ashthvinayak Ganpatis, hence you will see people bow their heads at the mention of God Ganesha.
For Ganpati's love for Modaks, people prepare them with the faith that he will taste them. But 'Ganpati Bappa Morya' is said all the time in a Maharashtrian's life.
Hence whenever you want to say this, you won't have to type it all again. The Marathi keyboard app's Clipboard and Shortcut features store the last 5 copied texts, and frequently used phrases respectively.
This way you can send the messages that fall in these categories instantly, leaving you with time to enjoy the divine magic.
The things mentioned above are few drops in the ocean of what constitutes the most Maharashtrian things ever. But the basis of all of them is to feel proud of your history and culture. From there onwards, you will see beauty in everything.