This Is Why Marathi Language Is So Unique! ✨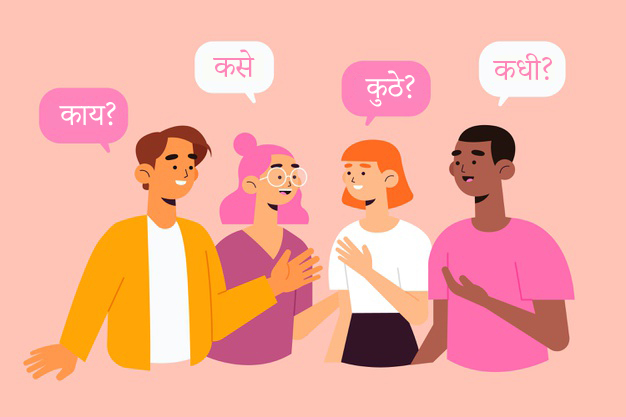 Languages are constitutive of our reality. They make our surroundings and give us an avenue to express, portray and communicate with other humans.
India has been a land of diverse cultures and languages. Its multiplicity of culture, each of which has its unique identity, is what adds to its beauty. Marathi falls under the category of Indic language, especially spoken in the western part of the land.
Each language has its own history of coming to being. Similarly, Marathi has a rich socio-cultural development. Exploring the history of the Marathi language will help us understand its key components well.
Marathi is indeed one of those languages of India that contributes to its greatness. Usually, Maharashtra and Goa are two places where the largest conglomeration of Marathis can be found. The neighbouring states were also influenced by Marathi dialects' reach and splendour.
It gives us great pleasure to introduce this language which is spoken by approximately 90 million people. In India, Marathi belongs to the category of one of the most widely spoken languages- it holds the fourth position.
The constitution of India classifies the Marathi language as a scheduled language. In fact, this reputable language is the world's 19th most widely spoken language.
The history of the Marathi language
Tamil, a Dravidian language spoken by Tamil people, has contributed to the development of the Marathi language. A large number of loanwords taken from the Tamil language typically make up what the Marathi language is today. According to the practice of the past, Marathi was known by various names such as Maharashtri, Malhatee, and Maharathi. Other than Sanskrit, Marathi was the first Indian language to get a book written in the 12th century. The name of the book is Vivek Sindhu, which was a book of poetry written by Mukundraj and published in the year 1188.
Currently, the Marathi language consists of 42 dialects. Every language has been inspired by its surrounding and neighbourhood. Marathi is no exception in this scenario.
It has heavily borrowed many characteristics and has been significantly influenced by the other regional languages.
In the case of Indic languages, Sanskrit is regarded as the Mother of All Languages.
However, the Marathi language is one such unique one that was not derived from Sanskrit.
This language's brilliance is undeniable.
To honour the sheer universality, uniqueness and authenticity of the Marathi language, the Bharat keyboard has launched its Marathi typing keyboard with advanced features while maintaining the tradition of this great ancient language.
English to Marathi Typing Keyboard is widely regarded as the most genuine Marathi language console available. To show your emotions and thoughts, the keyboard has been designed to adapt to your personal style.
Overall, it offers a seamless and transparent typing experience, whether you're transliterating English to Marathi or translating your text to Marathi using the Marathi keyboard. There are a number of emojis on the built-in emoji keyboard to choose from. It also recognizes and updates your favourite emoji and tweets, allowing you to deliver the appropriate responses to your peers and colleagues. Further, it enables users to deliver Marathi text by choosing from a range of stylish and entertaining fonts, making the conversation more enjoyable and exciting.
Make your conversations more meaningful and endearing by download Marathi typing keyboard.